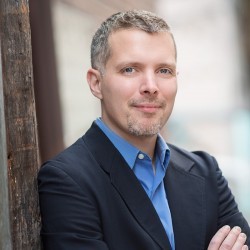 H. Luke Shaefer, professor of social work, professor of public policy and director of the University of Michigan's Poverty Solutions Initiative will act as special counselor to the director of the Michigan Department of Health and Human Services (MDHHS) on anti-poverty and economic mobility initiatives. The commitment is for two years.
Shaefer's role is advising and facilitating discussion on anti-poverty policy including:
Serving vulnerable Michigan families by effectively communicating about benefits and reducing unnecessary barriers to access.

Promoting work and partnering with families on their journey to sustainable employment.

Reducing stigma attached to accessing aid.
This summer, Shaefer and faculty from across U-M departments worked with MDHHS examining a set of actionable program and policy recommendations focused on strengthening work supports and reducing the negative impacts of "benefit cliffs," which reduce the positive rewards to employment for families by abruptly cutting access to public benefits. This appointment will allow Shaefer to build on this work.
As founding director of U-M's Poverty Solutions initiative, Shaefer was instrumental in establishing an interdisciplinary cross-campus approach to inform, identify and test strategies to alleviate and prevent poverty. His research on poverty and social welfare policy appears in top peer-reviewed journals.  He has presented his research at the White House, testified before the U.S. Senate Finance Committee and consulted with a number of the nation's largest social service providers. 
Shaefer's research focuses on the effectiveness of the United States' social safety net in serving low-wage workers and economically disadvantaged families. In 2015, he co-authored "$2.00 a Day: Living on Almost Nothing in America" with Kathryn Edin. The book won the Hillman Prize for Book Journalism and was named one of 100 Notable Books by The New York Times Book Review. The book was a breakthrough, changing the conversation about extreme poverty in the United States.
He is currently serving on the State of Michigan Commission on Community Action and Economic Opportunity.  The 12-member commission is charged with reducing the causes, conditions and effects of poverty and promoting social and economic opportunities that foster self-sufficiency for low-income people.