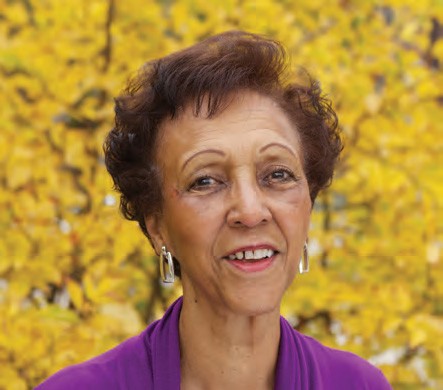 Associate Professor Leslie Doty Hollingsworth, PhD, ACSW, LMSW has always been a scholar, but she hasn't always worked in an academic environment.
After earning her Master's of Social Work degree from Syracuse University in 1965, Hollingsworth worked in group practices for a number of years before developing a thriving private practice. Her love of learning and interest in family studies led her to the completion of a doctoral degree in Child Development and Family Studies from Purdue University.
"Families are systems, just like an organization or a corporation, and they all have ways of doing things," Hollingsworth said. "Families are very complex. I wanted the skills to address the problems they experience and to support their growth. The completion of a two-year post-master's certificate and the completion of my PhD in 1995 added to my practice experience."
Hollingsworth joined the University of Michigan School of Social Work faculty in 1996, and for the next 20 years focused her research on circumstances surrounding the lives of vulnerable children and families across the child welfare and mental health systems and their implications for social work practice and policy. Her adoption-related research examines the multiple perspectives and experiences of members of the adoption triad: adopted individuals, adoptive parents and families and birth parents and families.
Hollingsworth also evaluates the effects of Africancentered curricular content on students' knowledge, values and skills in advanced practice with African American families.
"The most satisfying time in my career was the founding of the New Leaders in African-Centered Social Work scholars program, which we piloted during the 2015–2016 academic year," Hollingsworth said. "So much has emerged from this program, which was initiated during a forum hosted by the Association of Black Social Work Students to address climate issues of black students."
The forum resulted in a recommendation to create a "speak up" campaign encouraging students to openly discuss racial issues. An additional recommendation was the creation of a leadership program to help prepare students to work in a racially sensitive approach to practice.
"We want the leadership program to be supportive of all students," Hollingsworth said, "and it's incredibly satisfying to know that the 2016–17 academic year will be the first official year of the New Leaders in African-Centered Social Work program."
Hollingsworth has always loved learning and producing knowledge, the hallmark of a scholar. She has surrounded herself with colleagues who will continue to follow the pursuits of the leadership program.
"I would have loved to have seen the New Leaders in African-Centered Social Work program through its first official year," Hollingsworth said, "but I'm hopeful that the program will move forward campuswide and that it will serve as a model for other schools of social work. I'm ready to retire."
Hollingsworth wasn't always clear on when retirement would be right for her, but her friends told her that she would know when the time was right, and that's exactly what happened.
"I took a vacation two years ago, the first vacation in a very long time…and I realized after spending the first few days working on a grant submission before settling into a more relaxed pace, that I really enjoyed that time," Hollingsworth said. "Before long, I took another vacation and with a little guidance from friends and some research about how to buy a vacation home and eventually retire to it, I made an offer on a home down south and it was accepted! The rest is history!"
Hollingsworth looks forward to having the time to write about the transracial adoption research she's conducted for the last two decades, and spending time with her children and grandchildren.
"I don't feel like I'm leaving something, I feel like I'm going to something, and that is the best kind of retirement."