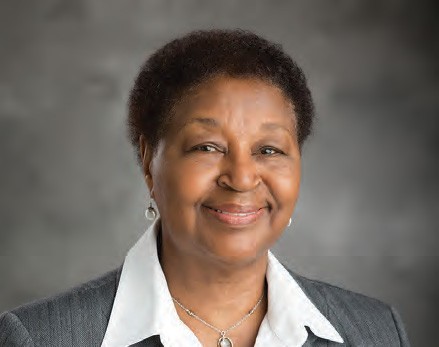 Professor Letha Chadiha, PhD '89, MSW '85, didn't have an action plan for her life, but she did have a focal point and a purpose, which allowed her professional life to unfold exactly as it was meant to be.
"My parents were sharecroppers, and by all measures, I shouldn't be sitting here today," Chadiha said. "But I transcended my parents' livelihood, and there was only one thing I set out to accomplish: to become educated. I always knew that education was the route out of poverty."
Chadiha makes reference to a quote by novelist James Baldwin: "Know whence you came. If you know whence you came, there is really no limit to where you can go."
"If we as a nation could find a way to provide a good education to every child," Chadiha said, "we would see a huge drop in the number of people living in poverty. I believe education is the key to moving people out of poverty, because it provides people with the assets they need and removes the veil of ignorance."
Chadiha began her education at Tuskegee University, continued with a master's of anthropology at Washington State University and later her MSW '85 and PhD '89 in social work and anthropology from the University of Michigan.
Chadiha attributes much of her success to those who supported and mentored her throughout her life.
Looking back on her career, she's quick to add that her pre-academic career can't be isolated from her academic years.
"I was a mother and wife before my academic career… there was continuity and interconnectedness throughout my life," Chadiha said. "I became connected with people who supported and mentored me, as a result of being in the right place at the right time."
Chadiha has made a notable mark at the University of Michigan School of Social Work. As co-director, Community Liaison Core in the Michigan Center on Urban African American Aging Research, she specialized in caregiving by African American women to older African Americans. She also focused her research on recruitment and retention of ethnically diverse elders in research, and is principal investigator on an NIH/NIGMS/ NCMHD Bridges to the Doctorate research training grant titled "U-M Social Work/ Nursing Bridges to the Doctoral Program," the first grant of its kind to be awarded to a social work school. In 2014, Chadiha was named the University of Michigan School of Social Work 2014 Distinguished Faculty
Chadiha's accolades are many, but when asked about the highlight of her career, she says she's really proud of having a wonderful career while having her children and grandchildren see that career.
"My youngest son attended my retirement celebration, which was very special, because he was there from the time I started my graduate studies, through the time I did my dissertation and took my first academic appointment." Chadiha smiled. "My three sons are very important to me, and I was always there in their lives."
Retirement celebrations with all of her family members will continue in the months to come. Chadiha plans to transition into her retirement with a move to the San Francisco area to be closer to family. "I've come full circle," Chadiha said. "This is the circle of life and now I'm going back to where I began, being a mother, being surrounded by my family and if I have any goal in life, it's returning to being a family member."