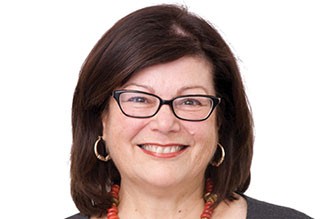 Lynn Videka, dean and professor in the Silver School of Social Work at New York University, begins her new position as dean of the School of Social Work on August 15. She is recognized for her leadership in social work education and her research on families served by the child welfare system and people with serious mental health disabilities.
"Dr. Videka has an inspiring vision for social work; one that encompasses robust research, innovative cross-disciplinary collaborations and rigorous engaged education for the next generation of practitioners," says Provost Martha E. Pollack. "We welcome her ideas and energy and are eager for the contributions she will make to the school, the university and the wider community."
Videka discussed four opportunities for the social work profession and the School of Social Work:
Increased integrated healthcare strategies. Increasing innovative and evidence-based integrated health strategies can improve healthcare and lead to broad gains in the health of our entire society. Videka is excited to see the work being done by the Michigan Center for Interprofessional Education and says she is eager to learn about and contribute to the SSW's interdisciplinary programs and collaborate with health science schools on- and off-campus.
It's important for the U-M School of Social Work to be on the forefront of preparing students to work in primary care settings as behavioral and mental healthcare specialists and for leadership roles in public health social work.
Poverty and reducing inequalities. Poverty and health inequalities exist by race, ethnicity, gender, age, disability status and income-and the gap continues to widen. Income inequality is widening in the U.S. The new lack of access to health insurance and health services contributes to poor health outcomes. The School of Social Work can develop new ideas and efforts to reduce health disparities and improve mental and physical health outcomes, particularly among society's most vulnerable populations. The School's commitment to diversity, equity and inclusion will be a source of momentum and energy to scholarship and leadership to advance our society and the world in reducing racism and inequality.
Geriatric social work. Serving older adults is the fastest-growing field of employment for social workers. Social workers are uniquely qualified to work with older populations because their education and training provides a holistic perspective that prepares them to meet older adults' biological, psychological and physical needs.
"The School has developed a foundation for geriatric social work leadership, research and practice innovation. It is essential for us to continue to support and expand this program so that more social work professionals can provide crucial services for elders and their families."
Technology. Technology is changing the face of higher education and has impacted virtually every profession as well as social work practice. Social workers must thoughtfully assess the best uses of information and communication technology in social work education and practice. The School should be a national leader in this disruptive historical reality.
Videka began her clinical career as a nurse health-educator in Chicago after earning her Bachelor of Science in Nursing degree with honors from the College of Nursing at the University of Illinois. She earned a Master of Arts degree in social work and a doctorate from the School of Social Service Administration at the University of Chicago.
She has held numerous national leadership positions including president of the National Association of Deans and Directors of Social Work, the Institute for the Advancement of Social Work Research and Council of Community Services of New York; vice president and conference chair of the Society for Social Work and Research; and commissioner of accreditation and treasurer of the Council on Social Work Education.
Her funded research totals more than $11 million and focuses on peer-helping models for people managing life crises or disabilities; the effectiveness of social work practice; and the intersection of family life and mental health, especially among vulnerable populations. More recently she has focused her research efforts on integrated healthcare models.
Videka says she looks forward to living in Ann Arbor and enjoying all that an active, progressive community offers. She will especially enjoy being closer to city parks, lakes, the Huron River, and is eager to explore the state of Michigan.
"I am thrilled to begin working at the School of Social Work. I have long admired the School and I am excited to be a part of the University of Michigan," says Videka. "I am impressed with the impact that the School's alumni have made in this country and across the globe. I look forward to meeting our accomplished alumni and working together to further our goals." Videka is already part Wolverine - she is the proud parent of two U-M alumni: her son earned an economics and organizational studies degree and her daughter is a medical school graduate.