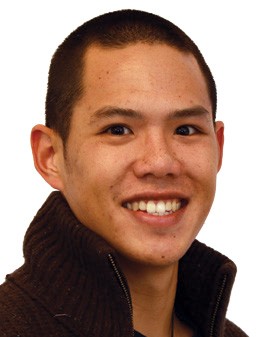 Matthew Chin moved from Jamaica to Canada after his senior year of high school. For many students, that might have been a teen's worst nightmare, but Chin saw it as a real opportunity, as he and his family settled in the multicultural city of Toronto.
"There were so many community arts initiatives in Toronto, which helped me have a sense of belonging and place," Chin said. "These arts initiatives are a common draw for queer and transgender people of color and led to my area of study for my dissertation."
Chin's undergraduate work in international development studies and anthropology at the University of Toronto included a year abroad in Cuba working with a food security NGO co-op program. Chin's work in Cuba inspired his undergraduate thesis on racism and international development.
In looking for opportunities to continue to do research on pressing social issues, Chin landed a position as a research assistant at the Factor-Inwentash Faculty of Social Work at the University of Toronto. He became involved in various community research projects examining topics such as barriers to social services for women and transwomen with experiences of homelessness.
Drawing together his personal experiences and his previous work on racism, the arts, community and gender and sexual minority populations, Chin focused his dissertation on trying to understand the relationship between urban government institutions, and queer and transgender people of color community arts organizations. 
"I wanted to understand the two-sided nature of the arts in Toronto," Chin said. "On the one hand, the city of Toronto is interested in providing public arts funding in order to meet political and economic goals and live up to its reputation as a multicultural city…. At the same time, I was interested in seeing what this funding was actually doing."
Chin believes art is a way for marginalized groups, such as queer and transgender people of color, to build their communities. 
"Now that the city of Toronto is supporting these communities through arts funding, it's an important time to understand how arts organizations operate
as a medium for community development and public policy," Chin said. "Some might say that queer and transgender people of color are such an obscure population, but my work demonstrates that it is only by looking at those groups with acute minority status that we can uncover unique insights into broader political processes."
Chin successfully defended his dissertation in Fall 2015 and has accepted a position as an ethnographic researcher at the Columbia University Medical Center.