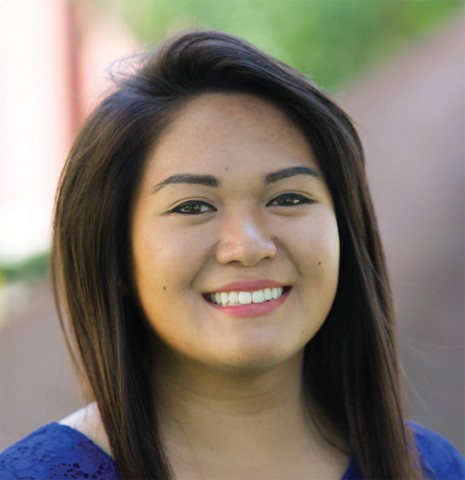 Hailing from Houston, Texas, Alexa Borromeo is in her final year as an art and design student who is passionate about social change.
"I knew I wanted more than art school," Borromeo explained. "I wanted to have a full academic experience with a wide range of areas to explore and the resources and options at U-M were a great choice for me."
Borromeo combined her art and design studies program with a Community Action and Social Change (CASC) minor, a program developed at the U-M School of Social Work for students interested in developing knowledge, skills and experiences in community action and social change.
After taking the public art class, I knew I wanted my art to make social change, and I was able to explore my art with CASC, and understand how change happens.
"My best experience at U-M has been exploring all of the areas of the University, and it put me in a new direction I wasn't expecting," Borromeo said.
She had taken a public art class, which piqued her interest in community art, community development and social change.
"After taking the public art class," Borromeo said, "I knew I wanted my art to make social change. I was able to explore my art with CASC, and understand how change happens." 
Borromeo said she learned about many areas of change and how to enter and exit communities. Through the CASC program, she became involved in the Summer Youth Dialogues Program in metropolitan Detroit, where she learned how to facilitate group discussions for high school students in Detroit and surrounding areas.
"I learned a lot about how to vocalize my own experience while working with these students," Borromeo said, "and that enhanced my artwork."
In addition to the CASC program, Borromeo also works for the Michigan Daily as the senior opinion video editor where she primarily covers campus issues and social issues while applying a videographer's craft. She's interned for Artrain, the Ann Arbor Film Festival and Goodeye Video, and has worked at the Duderstadt Gallery and Video Studio. And as if that wasn't enough, she also completed a summer study abroad program in Paris, while participating in the Penny Stamps International Scholarship program. 
Her senior year will be focused on her senior thesis for art school, which gives her the freedom to pursue a yearlong project.
CASC builds the masses to shape our talents to make a better world in all different fields, not necessarily to be a social worker.
"My Integrative Project will likely focus on telling people and community stories," Borromeo said. "I really like to experiment with videography, as well as public art, and show how change is made in a community with media and positive interventions. I've tried to take advantage of all that U-M offers, and hopefully my final project with reflect that!" 
When asked about her plans after graduation, she said she may go into video/photojournalism or work with a social media platform. She's interested in social change media, but for now she's focused on pulling together her art studies with the CASC program to complete her final project. 
"CASC builds the masses to shape our talents to make a better world in all different fields, not necessarily to be a social worker," Borromeo said. "I couldn't see myself anywhere else. U-M has propelled me in ways I couldn't have imagined."