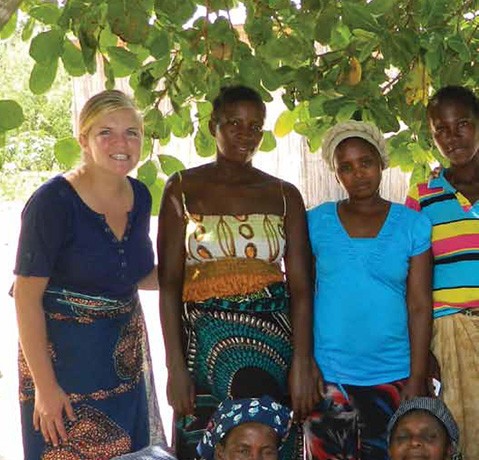 The University of Michigan School of Social Work continues the tradition of Leaders and Best as it successfully joins forces with the Peace Corps to offer a Master's International (MI) program.
The U-M SSW Peace Corps MI program welcomed its first cohort of two students in the Fall 2011. Both students are currently completing their Peace Corps service in Mozambique and the Philippines. 
The joint program allows students interested in working with children and youth to incorporate Peace Corps service into their MSW program. Students in this program will complete 27 months of Peace Corps service and earn an MSW degree from the University of Michigan in four years.
This isn't the first time U-M is making history with the Peace Corps. In 1960, presidential candidate John F. Kennedy challenged students on the steps of the Michigan Union to dedicate two years of their lives to help people in developing countries. U-M students readily accepted that challenge, and in five short months Kennedy signed an executive order creating the Peace Corps. U-M is currently the fourth ranked provider of Peace Corps volunteers. More than 2,500 alumni have served since the agency was created 53 years ago.
According to Katie Lopez, MSW '10, Program Manager for the SSW Office of Global Activities, the MI program is very attractive. 
"The high level of interest in this program is a real reflection of the current generation of students who wants to do it all," said Lopez. "Many students want an international experience, to give back, and to advance their education… they get all of that with the MI program."
The high level of interest in this program is a real reflection of the current generation of students who want to do it all…. Many students want an international experience, to give back and to advance their education… they get all of that with the MI program.
—Katie Lopez
U-M SSW has an entire office dedicated to global programming. Not only does the Office of Global Activities coordinate the MI program with the Peace Corps, but they also offer global field placement, global special studies and a certificate in global social work.
"Masters International students have the advantage of applying theory to practice while engaging in significant development work overseas," explains Lawrence (Larry) Root, director of Office of Global Activities and professor of social work. "We hope our students will return to the United States with an enhanced world view and the skills and education to continue to make a difference."
The Master's International program requires two separate applications. Students first apply to the U-M MSW program, selecting the Children and Youth in Families and Society practice area. After being accepted to the MSW program, students then apply to the Peace Corps. Students may indicate their country placement preference for the MI experience, but ultimately the Peace Corps determines the placement. 
The second cohort of students is leaving this summer to work in Costa Rica, Lesotho, Mongolia and the Philippines. 
Dean Laura Lein has committed substantial scholarship dollars to students who successfully complete their Peace Corps service. MI students returning to campus to complete their MSW program may receive up to a $20,000 total award depending on their Michigan residency status and curriculum track.
Peace Corps benefits include language training, travel costs to and from the country of service, overseas living and housing expenses, medical and dental coverage, vacation time and transition funds of approximately $7,000 upon completion of service.
Colleen Huysman, a member of the inaugural U-M SSW cohort, is currently serving in Mozambique and anticipates graduating with her MSW in 2015.
"I feel very lucky to have the knowledge and experience that comes with the Peace Corps Masters International program," Huysman said. "Not only is my service bookended by two years of graduate school… one at the beginning and one at the end, but when I started as a volunteer I had a solid foundation to use throughout my two years. The Masters International program gives me the opportunity to directly apply what I learned in my first year of graduate school, and when I return to school in 2014, I'll be able to relate to the real-world experiences I have had here in Mozambique." 
Huysman wanted to be a Peace Corps volunteer since she was in the eighth grade, but said she never really knew what her adventure would actually entail until she arrived in Chicumbane, Mozambique.
So far I feel like I have been learning more than I have been teaching here, but that is part of the nature of working as a Peace Corps volunteer.
—Colleen Huysman
"There are some days I still do not know just what the day will bring," Huysman said. "But that's just part of the excitement. So far I feel like I have been learning more than I have been teaching here, but that is part of the nature of working as a Peace Corps volunteer. It's a matter of taking the time to learn about the community and where I can be most helpful. Then, and only then, can one start to work hand in hand with community members on projects. Now, nine months into my service at site, I am just getting started on such projects."
Huysman is working with the area hospital, where she is giving nutrition lectures and porridge demonstrations. She plans to start support groups for pregnant HIV-positive women and children at risk. She's also working with Criancas Artistas Contra HIV e SIDA, where she's been doing organizational development, and setting up a more regular schedule of programming for the children. 
"The glamour behind the idea of being a Peace Corps volunteer I had when I was in eighth grade has definitely tarnished with the stresses and frustrations I have encountered along the way. But despite the challenges, I wouldn't change a thing about where I am today," Huysman said.
When asked how she's making a difference in Mozambique, she pauses and responds that she hopefully makes a difference with every nutrition lecture and every game she teaches the children. But she also spends considerable time helping her volunteers with English homework, assists a colleague at the hospital with computers and shares experiences with neighbors.
"Over the past nine months here, the biggest differences I have definitely seen have probably been within myself. But that's not to say I haven't been working to make a difference in my community. To see those differences takes time and patience… and that's why I am here for not just a few weeks or months, but willing to dedicate these full two years."
February 12th marks six months at site. While at times the days seem long, looking back, the past six months have flown by. I have no groundbreaking news or projects underway just yet, but certainly a lot has happened. The first six months are the critical period of integration. And throughout this time, to be honest, I have probably seen the biggest changes in myself. During this period, I have given several baptisms (baptisms are what my organization CACHES likes to do on peoples' birthdays. They just douse the birthday boy/girl with a bucket of water), attended three funerals, learned how to properly tie my capalana, built a reed wall, watched my latrine sink in—thank God, I was not using it at the time, learned how to "tomar cha" without actually drinking tea, learned how to fill the holes in my floor to keep out the rats, tried canhum (traditional Mozambican beer made from fruit) and developed the best response to marriage proposals and the like. There have been great days, not-so-great days and everything in between. I have turned 25 (AHHH), traveled within three provinces of Mozambique and two neighboring countries, become competent in one language and am learning a third, learned to actually cook meals for myself, perfected the bucket bath, become comfortable with the Mozambican schedule and learned a dance move or two along the way. Every day is full of surprises. And along with that I have surprised myself with my ability to just sit and wait for sometimes hours on end. I have developed a new tolerance for the lizards, rats and creature features that inhabit my house with me. The lack of personal space in this country no longer comes as such a surprise, but rather, just the norm. I would like to think I have become more resourceful and self-sufficient, along with that more independent and maybe even a 'lil bit sassy— you have to be here in order to stick up for yourself. There continue to be challenges and new things I struggle to understand every day. But this is to be expected. Things like why do Mozambicans spend so much time raking the sand in their yards and why chefes (bosses) have such a macho man mentality and why its okay for married couples to have other boyfriends and girlfriends? But this is still just the beginning of my service, and over the next year and a half, I will continue to try to understand.