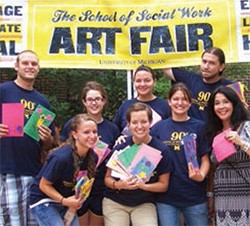 An informal group of U-M School of Social Work students hosted more than 150 guests at their fi rst artist showcase "Engage. Liberate. Heal." during this summer's Ann Arbor Art Fairs. 
During an SSW Multicultural and Gender Aff airs (MGA) committee meeting, the group discussed the numerous students and faculty involved in art-based social justice and therapy work. Th e U-M SSW wasn't actively involved with the art fair, which typically draws more than one million visitors to Ann Arbor. Th e MGA felt something signifi cant could be done to share eff orts with the broader art community because art has a diverse and profound impact on contemporary social work practice, social justice movements, community organizing eff orts, and personal journeys of triumph.
Caitlin Regan and Nicole Frances Williams, both MSW students and MGA committee members, worked closely with MGA faculty members Sandra Momper, PhD, and Larry Gant, PhD, to reach out to students, alumni, and community members to form the SSW Art Fair Committee, with a goal to explore how art is used as a therapeutic tool and mechanism for positive social change. 
"My favorite part of working on 'Engage. Liberate. Heal.' was working with others who care about art as a healing process," said volunteer coordinator and MSW student Nikki Amore. "I believe the event was successful because everyone shared this common passion." 
Art submissions came from community programs, such as the Prison Creative Arts Project (PCAP); the Detroit Initiative's Project One Shot; the Sexual Assault Prevention and Awareness Center (SAPAC); and Best Buddies. "Engage. Liberate. Heal." featured programs that were initiated by SSW students, alumni, community members, U-M faculty and submissions coordinator Leila Barbosa's Expressive Art Group, which she started as an intern at Hope Clinic in Ypsilanti. Individual students also submitted work, as well as local artists such as Lilith Dorr. 
"Engage. Liberate. Heal." developed a wonderful working relationship with South University Art Fair organizers and garnered fi nancial support from the SSW 90th Anniversary Committee, Professor John Tropman, PhD, and Associate Dean of Educational Programs Mike Spencer, PhD. Additionally, the broad social justice theme allowed MSW student and volunteer Brittany Sandefur to reach out to the Graham Sustainability Institute for sponsorship.
The SSW gallery featured more than 30 artists and hosted performances by storyteller and professor Jill Halpern, drummer and singer Frank Bartley III of the Little Traverse Bay Bands of Odawa Indians, and Neutral Zone's Gayrilla Th eatre Troupe. Art lovers used a comprehensive guide to view the SSW standing art collection, which is rooted in a commitment to the human experience, and features work by Frank Stella, Robert Rauschenberg, and Diane Arbus.
"The most pleasantly unexpected moments for me occurred when I fi rst saw the incredible variety of displays throughout the fi rst fl oor," said Gant. "… I hope this becomes a regular event for the school."  
Nicole Frances Williams, MSW student 2012