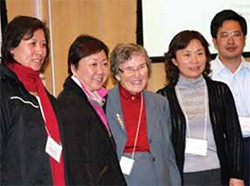 In May, the Office of Global Activities hosted a group of Chinese social workers from across mainland China as part of an ongoing collaboration between the U-M School of Social Work, Hong Kong Polytechnic University, and Peking University. During the week-long exchange, the international social workers discussed topics including social work in the U.S., curriculum, agency work, field work, licensing, and dissertations. 
The guests toured the U-M campus in Ann Arbor, and spent a day in Detroit that included a visit to U-M's Detroit Center, a bus tour of the city led by MSW alumnus Adisa Chaney, and a visit to two local social work agencies: Southwest Counseling Solutions and the Guidance Center. Other highlights were an American BBQ dinner at the home of Professor Emeritus and Office of Global Activities Director Siri Jayaratne, and a demonstration in the School's clinical suite using actors and role-play simulation with Professor Rich Tolman.
The exchange was set up in an effort to promote social work development in mainland China. The selected candidates met in Hong Kong first for training and team building before they left for the U.S. IP Ka-po, Eliza, fieldwork coordinator at the Hong Kong Polytechnic University, said she's glad to see social work gaining momentum after years of being marginalized, if not outright ignored. "Communists stopped social work training, claiming the government took care of it. But now there's a gap in services, and social work is being reintroduced to China." 
Social work training programs were first introduced in China in the 1920s but were discontinued in the early 1950s. In view of the growing social problems and social disparities accelerated by the "Open Door" economic policy, the Chinese government reinstated social work as a discipline in the universities in the 1980s. Social work training programs expanded rapidly in the past two decades. However, there is a lack of well-trained faculty with frontline social work experience.
"In the late 80s and early 90s, five schools started SSW programs and Hong Kong PolyU started an MSW program with an emphasis on local service and insider perspectives." IP Ka-Po, Eliza said. "There are now 250 BSW schools. We're building up. We need to continue the dialogue between practitioners and educators." 
Hong Kong Polytechnic University and Peking University, through a collaboration funded by the Lam Woo Social Fund, provide top-notch, cutting-edge training and development for social work policymakers, educators, administrators, and practitioners to lead and spearhead the development of social work training and practice in China; to provide incentives for professional development through the establishment of awards and scholarships; to facilitate professional exchange among social workers; and to become a hub for social work training and development both nationally and internationally.
IP Ka-po, Eliza said the trip "opened their eyes to see what the U.S. is doing right now." The group spent four days in New York where they visited Columbia University School of Social Work and took agency visits prior to coming to Ann Arbor. Travel snafus in New York helped the group see that "the U.S. has a big efficient system but it's not flawless. People are restricted in the U.S. too, just a different kind of restriction." But of the city itself, "New York showed [us] that diversity is possible, unlike the homogeneous 'harmony' in China."
The differences in Michigan, both on U-M's campus and in Detroit were quite stark from the New York experience. "Michigan is green, quiet, and safe," IP Ka-po, Eliza said. She found the intellectual environment and faculty lectures inspirational. "They [the U-M faculty] have ownership of information and knowledge. In the future, we look forward to building our relationship with U-M and exchanging ideas."
IP Ka-po, Eliza was particularly taken with the tour of Detroit and inspired by the city's potential. "In China, we never think of unemployment and poverty in the U.S. But there's a big difference: China shows people only its good side, like a show window. Detroit shows the bad, but it's not hopeless. Detroit says 'we're working on it and we're not ashamed.' Never avoid a problem, face it, and we can do it; that's the role of a social worker."
—Tim Chilcote is managing editor of Ongoing