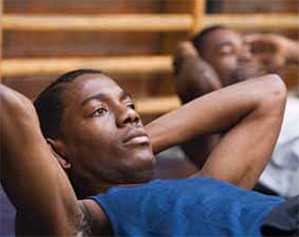 Assistant Professors Marilyn Sinkewicz and Daphne Watkins share more than related research interests. They also share the belief that the stars must have aligned just right to allow them to join the faculty of the SSW at the same time. Both professors had the opportunity to complete postdoctoral training opportunities that set them off their original start dates, leading them to be the incoming faculty cohort of 2009. The two have intersecting research interests in the health and mental health of men, and to have two people with these interests and experience in the same program is, in their mind, providence.
Sinkewicz and Watkins have similar ideas on why men's health is both fascinating and challenging. "Gender roles are learned early," Watkins comments. "Young boys are encouraged to 'man up,' with the understanding that seeking help doesn't always fit in with the typical societal view of how men should behave, especially when it comes to mental health issues." So how can society respond to a population that is often reluctant or inarticulate about its own needs? 
It is this question, among others, that interests Sinkewicz and Watkins. They both see their work as contributing to the overall picture of health and mental health for all genders. 
Sinkewicz, whose interests include gender as a determinate of health—with a focus on men's mental and physical health, as well as the methodological issues of missing data—began as an informal advocate for children and their families. On the street level, she saw firsthand that men's health is intrinsically linked to that of women and children. She has gone on to pursue a research agenda that addresses the intersection of gender, class, race, and health. "Health is more than genes, biology, and access to health care— issues people typically think of when discussing health disparities," she notes. "It is often a complex discussion of factors such as wealth, social support, and political participation." 
Her interest in missing data is related to her interest in men's health, in that men are often underrepresented in survey data with the result that significant parts of a bigger picture are left blank. 
One of Sinkewicz's current projects is investigating the experience of a specific population of war veterans, those from Vietnam who have PTSD. She hopes to gauge the psychiatric cost of a war that still resonates in the American consciousness.
Watkins' interest in men's health developed in part from observing her family and noticing the differences in gender role socialization, stability, power, and psychological well-being between the men and the women. Broadly, her research interests include the symptomatology of mental disorders and how they manifest across marginalized men. Building on this, she says, "I hope to increase awareness of how mental illness affects health and health behaviors among Black men." 
Her research agenda aims to use evidence-based strategies to improve the physical and mental health of Black men, and increase knowledge about the relationship between culture, gender, and the development of risky behaviors that place Black men at high risk for poor health status. 
Currently, Watkins is working on a series of projects that explore how gender norms influence mental health over the life course for Black men. Using both quantitative and qualitative methodologies, she hopes to isolate social determinants of mental health that reveal age and developmental differences across age cohorts of Black men.
With these parallel interests, Sinkewicz and Watkins are definitely pleased to be in one another's company. Sinkewicz, whose focus has primarily been in psychiatric epidemiology and social policy, is excited by Watkins' background in health education and intervention research. Similarly, Watkins recognizes that most effective interventions are supported by science and is enthusiastic about Sinkewicz's background and training. They both look forward to the potential of collaborating, learning from one another, and pushing the men's health agenda to the forefront.
—Melissa Wiersema is assistant director of administration at the School of Social Work.