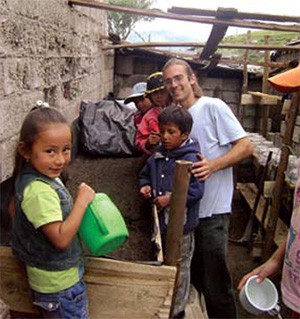 This past summer four social work students—Joseph Donlin, Amanda Garratt, Viridiana Romero, and I— completed a four-month MSW degree field placement in Quito, Ecuador, with the Quito Project. The Quito Project is a University of Michigan-affiliated student organization composed of an interdisciplinary team of graduate students from medicine, psychology, public health, social work, and undergraduate students.
Our social work interventions were based upon an assessment of the needs, strengths, and interests of San Martin community members and consultation with La Fundacion de San Martin, with the overall goal of unifying, educating, and empowering community members and increasing their overall health and well-being.
In order to be prepared for the international field placement, prior to leaving we met weekly for training about social work practice theories, history, and culture of Ecuador, as well as to plan projects. Yet we discovered that no training can prepare one for the trials and errors likely encountered in a new and different environment.
Upon the Social Work–Public Health team's arrival in Quito, we put into practice our skills by conducting an in-depth community needs and strengths assessment, which comprised door-to-door interviews and focus groups. This assessment resulted in several intervention projects, such as Photovoice, a community garden, and family and health workshops.
Luckily, people welcomed us by coming to our programs and participating. Youth eagerly came to Photovoice to share their concerns about their community's environment and to take pictures in hopes of finding ways to make practical changes.
Children who participate in the Summer Tutoring Program excitedly planted carrots and radishes, saw them grow, and took them home to share with their families. Their crop was not only vegetables but a sense of accomplishment.
Women and some men came to our family and health workshops to listen and share their deepest concerns about their family's challenges in hopes of receiving the willpower to improve their lives.
This opportunity gave us a unique experience to practice our Spanish skills and our social work skills by immersing ourselves in the culture; we gained a better understanding of Ecuadorian needs and strengths within the context of their environment through observation and analysis of strengths and struggles, as well as their cause and implications. As American social work students, it was important for us to maintain the integrity of the Ecuadorian culture and traditions, while still helping them.
Thanks to the following organizations, we were able to accomplish many projects during our field placement: the Quito Project, the Ginsberg Center, Julie Maslowsky (MSW '05, who provided the social work supervision), the Global Health Research and Training Initiative, the School of Social Work Board of Governors (BOG) Practicum Award, Dean Paula Allen-Meares, and the Office of Field Instruction.
—Valerie Varela is an MSW 2008 candidate who desires to work internationally as a social worker through an NGO or United States-based government organization.