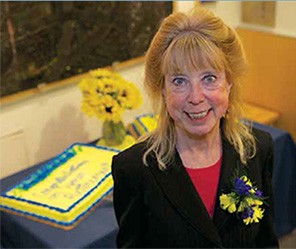 Trailblazer. Tireless advocate. There are very few words that can accurately describe the depth of Dr. Kathleen CoulbornFaller's contributions to the field of child welfare. 
The Marion Elizabeth Blue Professor of Children and Families at the University of Michigan School of Social Work, Faller has done extensive research and written nine books and more than 90 journal articles on topics related to child welfare. She has conducted over 300 juried conference presentations at state, national and international conferences and presented more than 250 workshops. Faller has also served as Director of the Family Assessment Clinic since 1985, beginning at the School of Social Work and now located at Catholic Social Services of Washtenaw County. Her research agenda has been extensive, most recently as the Principal Investigator on the University of Michigan site for the National Child Welfare Workforce Institute. 
She has received two awards from the American Professional Society on the Abuse of Children, one for Outstanding Research Achievement and another for Outstanding Service. In 2010, she was presented with the University of Michigan School of Social Work Distinguished Faculty Award for her achievements in research and teaching. Faller has also received Lifetime Achievement Awards from the National Children's Advocacy Center and the Michigan Chapter of the National Association of Social Workers.
Faller's retirement celebration at the School of Social Work honored her many accomplishments and contributions to the school. The event focused on Child Maltreatment and Children Coping with Trauma: Diverse Professional Perspectives. The symposium celebrated Faller's career and accomplishments and included guest speakers Professor Jon Conte from the University of Washington, Dolores Subia BigFoot from the University of Oklahoma and James Henry from Western Michigan University.
In reviewing Faller's book, Interviewing Children about Sexual Abuse, Controversies and Best Practice, David L. Chadwick, MD, Director Emeritus, Chadwick Center for Children & Families, Children's Hospital San Diego, says, "While change is to be expected in this field, a milestone is needed from time to time and this is such a work. This book belongs in every clinic, every Child Advocacy Center and every agency in which children may be interviewed about sexual abuse."
Written by the U-M SSW Child Welfare Learning Community (CWLC)