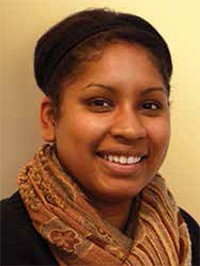 Jaclynn Hawkins is devoted to diabetes and gender research, and has been since she began her MSW at the University of California-Berkeley. That devotion continued when she came to the U-M School of Social Work doctoral program in 2009. 
"The University of Michigan is an ideal match for me," Hawkins explained. 
She was courted by five doctoral programs, including some Ivy League schools, but the research and mentoring at the University of Michigan was an ideal combination for Hawkins.
"I wanted to do community-based diabetes research because I can be a resource to the community and the School of Social Work wanted a doctoral student who had expertise in this escalating area of chronic illness."
Nearly 26 million Americans have diabetes, which is more than 8 percent of the population. That number continues to grow with approximately 2 million new diagnoses each year.
Not only is diabetes a national health concern, but it's also for Hawkins, a very personal cause.
"My mom and several cousins have diabetes, this is a disease that runs in my family, and I want to understand how to create the very best program to deal with this health issue."
When Hawkins came to the U-M SSW program, she was conducting research on women with diabetes and their access to care. During this research, she realized men in particular were struggling with diabetes.
This evaluation led to a successful grant application which provided funds to work with African American and Latino men with diabetes to better understand how Community Health Workers (CHW) could best develop a program that would be helpful to men with diabetes. Hawkins applied for a larger REACH (Racial and Ethnic Approaches to Community Health) grant to conduct additional qualitative research to determine cause of intervention withdraw among the African American and Latino male cohort. Her analysis was published in Diabetes Educator in September/October Vol. 39, no. 5. Hawkins also conducted three focus groups with cohorts of African American and Latino men; it was determined that they wanted to have access to CHWs during extended hours, and they wanted their program to include spouses. Additional conclusions are still being determined, and positive program development is moving forward.
Hawkins' advisor and dissertation co-chair is U-M SSW Assistant Professor Daphne C. Watkins. In addition to serving as a mentor, Hawkins works with Watkins on research and practice issues related to African American men's physical and mental health.
"Jaclynn clearly demonstrates stellar qualities and will one day change the way we think about gender, community-based health and targeted diabetes interventions," said Watkins. "Also noteworthy is Jaclynn's work ethic, quality of writing, and focus, which raises the bar of excellence for our students."
Jaclynn clearly demonstrates stellar qualities and will one day change the way we think about gender, community-based health and targeted diabetes interventions.
Her dedication is evident as she is currently completing three papers related to her research, completing her doctoral work in spring 2014 and applying for postdoctoral work in hopes of continuing her research on gender and chronic illness.
She looks forward to doing hands-on work and collaboration with African American and Latino men, and at some point, she imagines having some impact on the policy level. She says those are the necessary components of what she'll be doing in the future, she's just not sure where all of that will happen.
"I would like to be more familiar with the physical aspects and the medical side of diabetes," Hawkins said. "I want to know more about genetics…starting intervention earlier…I'm not closed off to any options."