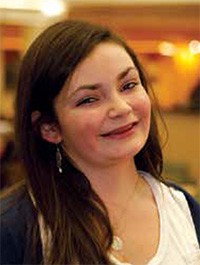 First-year MSW student Allie Gasiorowski has never been one to shy away from a challenge. As she puts it, "It's how you deal with those challenges that define you, not the challenges themselves."
Gasiorowski knows all about dealing with a challenge. Born with Shone's Complex, a rare congenital heart disease, she has undergone four open-heart surgeries since birth. The last one—for mitral valve replacement—was performed at U-M's C.S. Mott Children's Hospital when she was 12 years old. Incredibly, just one year later, she traveled all the way to central Minnesota to attend a week-long residential summer camp.
Camp Odayin, which takes its name from the Ojibwa word meaning "heart," specializes in outdoor adventure and activities for kids aged 8–17 years of age who struggle with heart disease. Because activities are structured to accommodate varying levels of physical ability, every camper can participate in some way—or choose not to participate—without feeling pressure to keep up.
I want to give back by showing others that they have all these opportunities, too. For young people in particular, it's so important to know that they have a future.
"It's a place where everyone has been through many of the same things that you have, so you don't have to feel 'different,' " she said. "You can focus on making friends and having fun."
Gasiorowski returned to Odayin every summer for the next five years and in 2009 took the leap from camper to counselor-in-training. She now spends part of every summer working as a counselor and, because of her experiences at Odayin, has set her sights on opening her own specialized heart camp some day. 
"Several of my directors at Odayin have their masters' in social work," said Gasioroski. "I realized that pursuing my own MSW would be most beneficial to me in reaching my professional goals."
In addition to opening her own heart camp, Gasiorowski's professional goals include working in a hospital setting where she can interact with patients on an individual basis. She cites her own experiences as a young patient at Mott/UMHS as a primary reason for choosing Health and Interpersonal Practice.
"I've been given so much in life as a result of my own condition," she said. "The doctors and hospital staff saved my life and gave me the opportunity to live my life to the fullest. I want to give back by showing others that they have all these opportunities too. For young people in particular, it's so important to know that they have a future." 
Gasiorowski appreciates the diversity in course offerings in the SSW/MSW program, as well as the flexibility she's encountered within the department when it comes to exemptions and electives. This semester she's taking an elective called "Death, Grief and Loss," taught by Sallie Foley.
"If you work in a hospital, you will inevitably work with patients who experience loss," she said. "And there are many different types of loss. Obviously, death is one. Being diagnosed with a life-threatening disease is a loss too, and so is having a debilitating, chronic or progressive disease. You have to know how to help patients and families deal with these types of losses.
"This class is fantastic and I recommend it to everyone in the MSW program, whether or not they want to work in a hospital setting."
Gasiorowski cites the class, and Foley, as two examples of why she chose U-M for her postgraduate work. 
"I like the opportunities here, the hospital placement choices and the health concentration. I researched quite a few programs at other schools and found that only U-M allowed me to tailor my program to my interests and needs. Everything else I was seeing was more broad. U-M offered me everything I wanted." 
Gasiorowski will graduate in December 2014. 
Written by Anne Farris