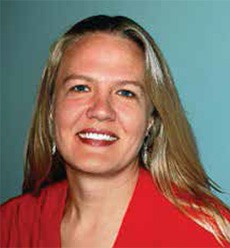 Amy Krings, MSW '03, a doctoral candidate in the Social Work and Political Science Joint Doctoral Program, conducts research focused on the ways in which poor communities leverage their resources to make economic development equitable and accountable.
"I wanted to study marginalized groups working toward improving their health and quality of life, despite being confronted with environmental injustices," Krings said. "Without protection, residents living near hazardous developments such as interstates, garbage incinerators, and waste water treatment plants experience negative health impacts, while the broader community benefits," Krings said. 
She is interested in exploring policies which reduce or alleviate environmental impacts, as well as the politics within community-based campaigns seeking to make large-scale development accountable to local concerns.
Krings dissertation, Building Bridges Where There is Nothing Left to Burn: The Campaign for Environmental Justice within a Southwest Detroit Border Community, is an ethnographic study of a community's efforts to secure protections and investments in exchange for hosting a new international bridge crossing.
She has been following the Delray Southwest Development Community Benefits Coalition and its campaign to secure a policy known as a community benefits agreement, which if successful, will provide legal protections to community members, some of whom will be relocated and others of whom will have a new international border crossing in the neighborhoods, including thousands of diesel trucks each day. 
"The Community Benefits Coalition believes that the new bridge has the potential to bring new economic development to the region," Krings said. "At the same time, it will bring noise and pollution to their residents. Rather than asking this community to bear the burdens associated with hosting the new crossing, it is advocating for a number of policies and programs which will protect the health of residents, especially their efforts to reduce health impacts like asthma and cancer." 
Krings' research draws from more than three years of participant observation (2010–2014), including seventy in-depth interviews and an analysis of media coverage, and it examines why and how power dynamics influence this neighborhood group's goal and tactical selection, ability to build alliances, and campaign outcomes. She concludes by demonstrating why environmental injustices are reproduced at a local level, often in invisible ways. 
Ultimately, it is her plan to publish her dissertation as a book. It is her hope that by carefully demonstrating the nature of ethical and strategic dilemmas confronted in communities like Delray, her audience will have greater empathy for people living in environmental sacrifice zones. She believes that by exposing difficult decisions that community groups in environmental sacrifice zones confront, it will catalyze political reforms which will systematically protect and benefit the nation's most vulnerable neighborhoods, rather than leaving them to make the best of unfair and unjust situations.
She will defend her dissertation in the spring of 2015.