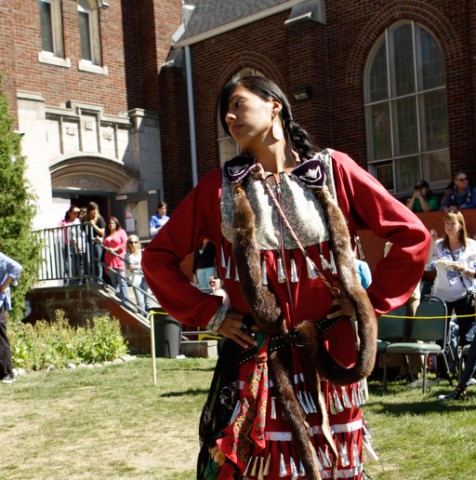 The U-M SSW has had a longstanding relationship with American Indian Health and Family Services of South-eastern Michigan, Inc. (AIHFS).
Since its inception in 1978, AIHFS has served as a non-profit health center for the Native American community of southeastern Michigan. The agency provided services from several locations throughout the metropolitan Detroit area until arson destroyed their Livernois location, which had become a permanent home, in late summer of 1993. It was around this time that the Archdiocese of Detroit donated a church and rectory building to help AIHFS continue on solid ground.
As interns, we are encouraged to work with the client as a whole person, including their spiritual beliefs, values and practices.

After many years of renovations, AIHFS today uses every square inch of the gifted space to actively pursue its mission to enhance the physical, spiritual, emotional and mental well-being of Native American families and other underserved populations. The primary target population of AIHFS is the American Indian, Alaskan Native, First Nation People and other underserved populations that reside in the southeast Michigan seven-county service area. According to the most recent census report, 45,000 people self-identify as Native American within AIHFS' service area.
AIHFS provides services based on the needs assessment conducted within the community. The most recent assessment was processed primarily in face-to-face meetings in 2009. A smaller percentage of assessments are collected via phone and Internet. AIHFS has many strong regional partnerships and alliances, including the University of Michigan School of Social Work. This partnership allows for U-M SSW faculty and intern involvement at AIHFS and has provided for many opportunities for both learning and information sharing on both ends. It also allows for U-M SSW interns to receive rich and meaningful internship experiences that supplement their work in the classroom.
Many U-M SSW students have served the Native American community as interns, administrators and mental health providers at AIHFS. This relationship began in 2007 with enrolled Cheyenne River Sioux tribal member Jerilyn Church, MSW '06, serving as AIHFS Executive Director. She recognized the key role U-M SSW students could have in learning from and enriching community services. A role that Ashley Tuomi, current AIHFS Executive Director, continues to support.
The first Native American identified U-M SSW intern to serve AIHFS was Tina Louise, MSW '10. She now serves as the Director of the Department of Emotional and Spiritual Wellness and is a new member of the U-M SSW Alumni Board of Governors. Also of note is Abigail Eiler, MSW '06, who is the Clinical Supervisor of the Department of Emotional and Spiritual Wellness. Eiler also serves on the Board of Directors for the NASW-Michigan Chapter (Region 11). She has a special connection to her work through her education at U-M SSW and her personal heritage as a descendant of the Shawnee tribe.
The Women's Circle provides a safe and supportive space for its group members. The Women's Circle is modeled after traditional talking circles where each group member is given individual time and respect to share their voice.
"Working with the American Indian, Alaska Native and First Nation People has always been something that I've held close to my heart. I have a great deal of respect for the Native community in Detroit and am honored to be part of such a strong organization and community," Eiler said. "AIHFS has provided several trainings, in conjunction with UM-SSW. These trainings have provided opportunities for social workers and non-social workers to get involved with AIHFS on both micro and macro levels."
Eiler has been working with the Detroit-based agency since June 2012. In addition to providing services as a licensed social worker, she also acts as the liaison for AIHFS internship programs. Her clinical work includes providing culturally responsive services to children, youth, adults and elders and their families in both tribal and non-tribal communities.

"UM-SSW faculty Sandra Momper, Kathleen Faller, Robert Ortega, OFI Field Liaison William Vanderwill and a few other UM-SSW faculty and staff have been great supporters of the work being done at AIHFS," Eiler said. "I look forward to the relationship between AIHFS and UM-SSW continuing to grow over time."
Nadia Matta, MSW '13, is a U-M SSW clinical scholar intern for the Department of Emotional and Spiritual Wellness. She has also had opportunities during her internship to work with the Healthy Start Department, where she utilizes evidence-based treatment modalities to enrich home visits with new and expecting mothers.
"I truly enjoy the work that I do at AIHFS. It has been a privilege to work with clients both in the clinic and in clients' homes," Matta said. "I have found that home visiting offers a richer understanding for person-centered treatment planning; it supports my social work philosophy of meeting clients where they are at, while assisting them in the development of healthy parent-child relationships."
"Supervision has been beneficial to my learning experience," Matta said. "Abigail and the AIHFS field instructors have created a supervision model for interns placed at the agency to feel supported over the course of their field placement."
U-M SSW faculty is well represented by Assistant Professor Sandra Momper, who is active in the American Indian community at the University of Michigan. As the lead evaluator for several large federal grant projects with AIHFS and service as a former member of the AIHFS Board of Directors, Momper not only brings more than 20 years of professional social work experience to the agency, but she's also a respected elder within the community.
The research Team at AIHFS and Momper successfully received a SAMHSA grant to build a System of Care that provides culturally and linguistically relevant mental health and substance abuse healing services.
Sara Hughes-Zabawa, MSW '13, began working with AIHFS as an intern and received her first post-MSW fellowship with the agency. As a mental health provider, she works primarily with adults in individual therapy and also helps facilitate the Women's Circle.
"The Women's Circle provides a safe and supportive space for its group members," Hughes-Zabawa explained. "The Women's Circle is modeled after traditional talking circles where each group member is given individual time and respect to share their voice. The weekly meetings also provide a discussion regarding Native American teachings including the importance of sweat lodges, naming ceremonies, the seven grandfather teachings and respecting sacred medicines.
"The Women's Circle aims to meet the goals set by its group members and helps strengthen their connection to spiritual and cultural ties. Group members range in age from young adults in their 20s to Elders in the community where everyone is invited to share their challenges, triumphs, wisdom and cultural teachings."
Deirdre King, MSW '13, is working with AIHFS from a perspective of macro social work and man- agement of human services, through grant writing and program planning to promote wellness.
"My projects allow me to engage with the community at different levels throughout the agency," King said, "and I really appreciate that opportunity...The projects I've worked on range from coordinating AIHFS' annual Children's Mental Health Awareness Day, to co-coordinating AIHFS as a delivery site for Gleaners Community Food Bank's Fresh Food Share Program."
The Wellbriety circle is facilitated by Sadiq Patel, MSW '13, who works primarily with young adult men. "My work depends on the client and their life circumstances," Patel said. "I've been working with the Wellbriety group since January 2013. This group continues to grow in participant size. The focus on living a sober and well-balanced life is important in the Native community; this group supports the AIHFS mission."
Rachel Burrage, MSW '14, is working with AIHFS while completing her PhD in social work and psychology. Her work focuses on trauma and domestic abuse, and she hopes to volunteer with the agency after her internship concludes.
"I really like the environment at AIHFS and the experience and commitment of the people I work with," Burrage said. "As interns, we are encouraged to work with the client as a whole person, including their spiritual beliefs, values and practices."
Because of the challenges she has witnessed implementing evidence-based practices designed without communities' particular strengths and needs in mind, Burrage would like to engage in community-based research in the future. She is also inspired to continue her work by her mother, a teacher and scholar who sought to honor her own Native ancestry through her work as a tribal attorney with the Crow Nation in Montana before her passing last May.
Burrage noted that AIHFS promotes a healthier and more balanced way of living and working than is taught in many academic settings, one that allows her and her U-M SSW colleagues to continue to pursue their commitment to supporting the com- munity, while at the same time learning valuable skills that will support them throughout their social work careers.