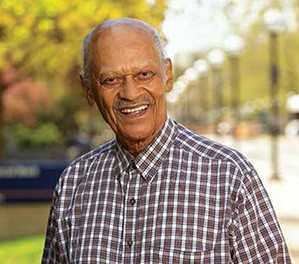 Dr. James Curtis's life is a microcosm of America's own history in addressing issues of race, class, and social justice for more than 75 years.
It is the story of a man who entered University of Michigan's medical school in 1943 as the only black student in his class, and 74 years later was responsible for the formation of the Vivian A. and James L. Curtis School of Social Work Research and Training. It is the story of a man who fought the prejudices of his day, stayed true to his belief in the importance of social justice, served his profession and community with honor and devotion, and in his tenth decade of life continues to give back to that community. His is a story shared with gratitude and continued promise.
Curtis attended Albion College in the 1940s. A champion debater, he initially saw himself becoming a lawyer. However, he felt that as a black lawyer, his career options would be limited. Medicine held more appeal, but World War II and the draft intervened.
After basic training, Curtis was expected to go on to engineering school, but fate, and U-M, provided a different path. One of Curtis's biology professors from Albion College contacted a colleague at the University of Michigan Medical School.
U-M, a progressive medical school for its time, held one or two spots for African American students.  Since there were none in the incoming class, the medical school reached out to Michigan Senator Arthur Vandenburg, who arranged for Curtis to leave engineering school, and enroll in the U-M Medical School as the lone African American student in the class of 1946.
"I am the product of the miracle of intervention of friends in high places," Curtis said.  "Senator Vandenburg was able to spring me at the end of my basic training."
Three years later, Curtis was graduated in the top fifth of his class.
After World War II, psychiatry became a more prominent component of medicine, particularly among patients who were suffering a stressful, post-war life.  As a result, Curtis dedicated his career to psychiatry after completing his residency at a state run psychiatric hospital in Wayne County, Michigan.
"Dr. Milton Erickson ran our weekly journal club and included nurses and social workers," Curtis explained.  "He believed you couldn't run a hospital then, or now without them.  Social workers and nurses were coming into great prominence as integral members of the mental health team in the 1950s."
It was during those journal club meetings that Curtis met and eventually married one very special social worker, Vivian Curtis, MSW'48.
Together, they embarked on very successful careers. 
Vivian was considered an exceptional leader in social work on a national scale from 1946 to 2003. 
His career took the Curtis family to New York City, where he served as a clinician, educator and administrator. His first position was in Brooklyn, at the Long Island College of Medicine (which later became SUNY Downstate Medical Center), and from there went to Kings County Hospital in Queens. Dr. Curtis spent the next ten years at Cornell as Associate Dean of Student Affairs where he worked to recruit minority students to the medical school. He then moved to Columbia, and as a professor of psychiatry supervised the psychiatry training program at Harlem Hospital for 20 years.
 "My personal ambition, and my wife's, was to see an increasing opportunity for people regardless of race or sex with poverty conditions in their families," Curtis said.
As a culmination of their ambitions, and with the assistance of then School of Social Work Dean Paula Allen Meares, the Curtis' provided initial funding for the Vivian A. and James L. Curtis School of Social Work Research and Training Center in 2007.  Dr. Curtis has provided additional financial support for the Center in recent years to ensure that the Center has the resources to continue its mission.
 "An individual desire to bring about change doesn't amount to anything," Curtis said, but you can bring about great change when you work as a larger social group, and that's why we created the Curtis Center."
The Curtis Center collaborates with faculty members, community and University partners, and students to create social change through research and evaluation excellence. 
"We wanted to support faculty engaged in research that creates social change," Dr. Curtis said.
In the past five years, the center has funded 19 pilot projects, provides ongoing support for a postdoctoral fellow, and offers program evaluation services to community-based agencies.
Dr. Curtis retired in 2003, and returned to Albion with his wife.
Most people would be content to slow down at this point, but Dr. Curtis began his retirement by publishing Affirmative Action in Medicine: Improving Health Care for Everyone (University of Michigan Press, 2003), a follow-up to his 1971 book Blacks, Medical Schools, and Society (University of Michigan Press). Jordan Cohen, former president and CEO of the American Association of Medical Colleges described Affirmative Action in Medicine as a "rare combination of riveting personal reflections, previously unpublished data, and heartfelt philosophical declarations by a man who has not only lived through but has also contributed significantly to hone [one] of the most important social transformations in American history."
Vivian Curtis died in 2007, but Dr. Curtis, now 91-years old, continues their shared goal of serving others. He is currently working to form a home and social service program in Albion for homeless pregnant teenagers and their children. Two buildings have been purchased and are being renovated with the goal of providing these young women and their children with a home and support for a two-year period.
Dr. Curtis's story is inspiring when looked at from any vantage point. He is a Michigander, a Michigan alumnus, a physician, a teacher, a tireless worker for social justice and a philanthropist.
James Curtis, MD '46, and Vivian Curtis, MSW'48 shared a lifetime of collaboration blending medicine and social work, and they provide ongoing inspiration to make positive change possible.