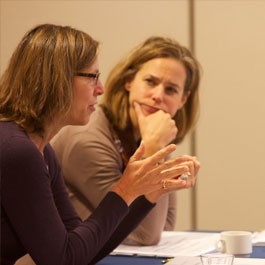 Nokomis Foundation combines thought and action to advocate for women and their families. Nokomis values creativity and experimentation and invests in innovation and proven solutions.  The foundation is funding several SSW projects that are removing barriers to healthcare. Nokomis is a part of the conversation at the School on creating public understanding of inadequate access to secure health care is a barrier to economic self-sufficiency with long-term cross-generational consequences.
Currently, the Nokomis Foundation is funding a pilot program that will increase access to oral health care in Michigan. Assistant Professor Luke Shaefer is collaborating with dental schools in Michigan to form a feasibility committee to examine a pilot program to train registered dental hygienists to provide an expanded scope of service.
The grant from the Nokomis Foundation funds the development of a model for a combined dental hygienist-dental therapist provider in the state of Michigan. This model would address supervision requirements, a licensure structure to promote services to vulnerable populations, and the necessary training requirements.  The project will develop detailed plans for a pilot effort that would enable a small-scale implementation of new oral health practices, coupled with a careful evaluation.
"Oral disease affects millions, disproportionately impacting those in poverty, the elderly, and children," Shaefer explained.  "Collaboration isn't always totally comfortable, but it's the responsibility of social workers to push the interests of vulnerable and underserved populations and try to move them higher up on the agendas of all professional communities."