Related My SSW Sections
Kerberized resources for students, faculty, and staff.
Office of Field Instruction Events
Apr

23

Field Placement Webinar

5:00 PM to 6:30 PM

This webinar will walk admitted students through the process of applying for a field placement. All students should plan to attend either the April 8th or April 23rd session. Presenters will also discuss how to effectively utilize the Career Center in preparing field application materials. The last 30 minutes of the session will discuss specific information for students planning to apply for a school placement.This is a web-based session and you may attend from any computer via an Internet connection.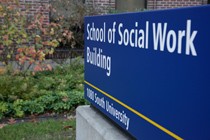 Contact Information
Office of Field Instruction
1080 South University
Room 1704
Ann Arbor, MI 48109-1106
Phone: (734) 764-5331
Fax: (734) 763-4885
Email: ssw.ofi@umich.edu
Office Hours
Fall / Winter
Monday - Friday
8:30 AM - 5:00 PM
Note: these hours are subject to change, particularly on holidays.