Master of Social Work (MSW)
Online, On Campus, & Part-time Programs
The University of Michigan School of Social Work seeks to develop a more equitable, caring, and socially just society. The Master of Social Work (MSW) program is offered in a variety of platforms and timelines to fit your schedule. Choose from online, on-campus, full, or part-time course load.
Master of Social Work Admission Criteria
Earned a U.S. bachelor's degree or equivalent, with competitive grades, from an accredited institution.
Minimum of 20 credit hours for the liberal arts content requirement prior to enrolling.
Intellectual qualities likely to lead to roles and careers that have centrality in the social welfare system.
Personal qualifications considered essential to the successful practice of social work, such as sensitivity and responsiveness in relationships, concern for the needs of others, adaptability, good judgment, critical thinking, creativity, and integrity.
No admissions tests are required for admission to the MSW degree program.
Reach Out. Raise Hope. Change Society.
×
Privacy Policy
Information collected by this form is used only by the University of Michigan School of Social Work for the purpose of providing you information on our MSW and PhD programs.
You can opt to not be contacted at any time by emailing ssw.msw.info@umich.edu.
This form transmits data on an encrypted connection.
About the U-M School of Social Work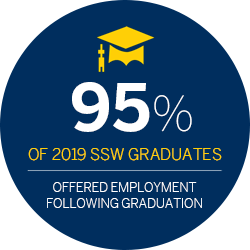 School of Social Work: 93% of 2019 SSW Graduates Offered Employment Following Graduation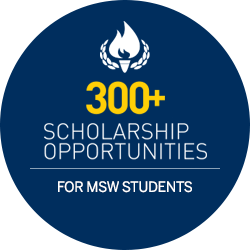 300+ Scholarship Opportunities
Ranked #1 in the Nation by U.S. News & World Report
What Does It Mean to Be a Social Worker?
If you are looking for a career with meaning, action and diversity in a variety of settings, consider social work. Social workers improve the quality of life for individuals and effect system-wide change through the pursuit of social justice.
What is Privilege, Oppression, Diversity and Social Justice? (P.O.D.S.)
This acronym of P.O.D.S. and the concepts of privilege, oppression, diversity and social justice, provide us with a framework for keeping justice at the center of our work. P.O.D.S. helps us in developing a vision for justice and it recognizes and reduces mechanisms that support oppression and injustice. A focus on P.O.D.S. can also help us identify theories and policies that promote social justice and eliminate injustice.
How is P.O.D.S. Applied at the School of Social Work?
For more than 20 years, the exploration of these concepts has been a foundation of a University of Michigan School of Social Work education. In the revised 2020 curriculum, P.O.D.S. is integrated into every course, helping us strengthen our focus on justice and critical consciousness.
P.O.D.S is at the crux of all we do. It provides the Michigan Social Work community with a shared language and a platform to discuss these issues as a community. It provides a metric for students to use in their own practice. By centering justice at the core of our work, we allow justice to become the lens through which all our goals are viewed.